---
SEO This Week Episode 19
SEO Elevation, Link Building, Customer Service and More!
January 25, 2017
No Comments
121

Success in 2017: Micro-Moments, Hybrid Marketing, and SEO Elevation
B2B marketers and 86 percent of B2C marketers say that they use content marketing to promote their brands. More than 70 percent of marketers in both groups also say that they plan to produce more content in 2017 than they did in 2016. Read More
Our Insights:   This article provides a pretty good summary of particular trends in digital marketing that all business owners should be implementing.  First, the micro-moments are addresses, and in particular, how they should be used to drive your content marketing campaigns.  Second, hybrid search marketing is stressed once again, but you follow us so you already know that a combined SEO/PPC campaign is the only way to do both right.  Finally, it addresses getting everyone on your team on board with your search marketing campaigns, doing so will make them much more successful.
---
What Links Can You Get That Comply with Google's Guidelines?
If you've ever been the victim of a Google penalty, you know how painful it can be to identify the problem and recover from the hit. Even if you've been penalty-free thus far, the threat of getting penalized is a source of worry. But how can you avoid it, when it seems like unnatural links lurk around every corner?  Read More
Our Insights:  If there was such a thing as "white hat" SEO I guess these link building tips would be it.  Some highlights are press outreach using HARO, asking for links from others in your network or getting yourself listed on "Resources" pages.
---
5 Tips for Amazing Customer Service
In this day and age where most consumers could have everything with just one click, and there is an insatiable thirst for knowledge, needs, and wants, how can companies keep up with this demanding customer persona the new millennium has created? Read More
Our Insights:  I don't know about you but I have joined or left company's and service if their customer support was bad or unresponsive.  It didn't matter if I liked the product, or if it mostly did what I wanted if the customer support was bad I moved on to another provider.  This is a great short write up on what good customer service looks like and how to improve your customer service department.
---
Twitter Automatically Loops Short Videos: This Week in Social Media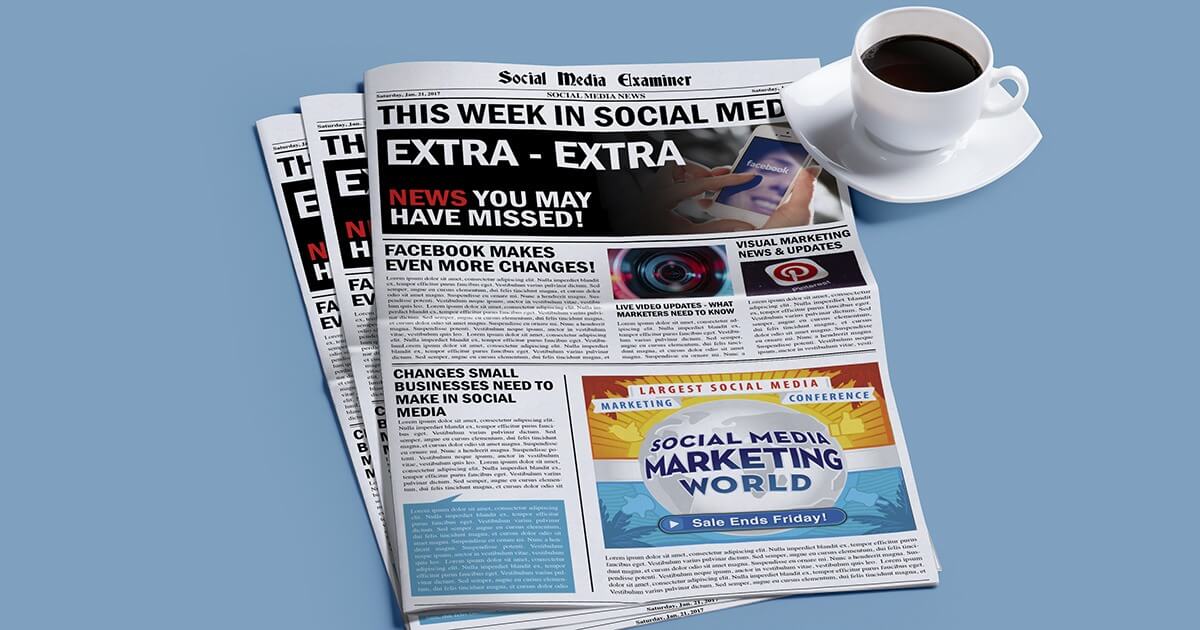 LinkedIn Launches PYLON for LinkedIn Engagement Insights and much more. Read More
Our Insights:   Much like our own weekly roll-up Social Media Examiner has a great roll-up for social media marketing.  One of the great features of this site is that they all live and breathe social media marketing.  I think you'll enjoy the info presented which included something about almost every major social platform out there.
---
The 5 Rules of Killer Copywriting That Will Hook Prospects at 'Hello'
Copywriting is the one marketing tool that will never change. So, why don't people still not know how to do it right? Read More
Our Insights:  I am a copywriting nut, I admit it, I love doing it almost as much as I love doing SEO.  The problem is that often times, I'm not very good, and knowing that is half the battle that all of us have to face.  There is going to be point in time where you are going to have to hire someone to write your copy for you or you will need to invest in a copywriting education.  If I can add only one piece of advice to this article it would be when writing your copy to remember that each elements only purpose is to get the reader to look at the next one.
---
6 Major Changes Coming to LinkedIn's Redesigned Desktop Site
LinkedIn has given its desktop site a much-needed redesign. Here's what's changing with LinkedIn's navigation, messaging, content and feeds, and search.  Read More
---
SEO Tips to Double your Website Traffic and Search Rankings
You can simply know about their entire e-mail marketing strategy by signing up for your competitors email list. Read More
---
The 4 Types of Website Traffic to Watch in Google Analytics
Creating and managing a website is a big step for a business, but just having a website isn't enough. Establishing a web presence on the web is equivalent to constructing a building for your business in the real world; you can make it pretty on the outside and pretty on the inside, but that doesn't guarantee any foot traffic, and it certainly doesn't guarantee any patronage. If you're going to maximize the revenue potential of your site, you need to understand who's coming to your site, why they're coming to your site, and what you can do to increase those numbers. Fortunately, Google's free Analytics platform gives you these kinds of insights in great detail. But you still need to know what you're looking at.  There are tons of different metrics to track in Analytics, and it can be confusing if you're a first-timer. Read More
Images from brightedge.com, moz.com, searchenginejournal.com, socialmediaexaminer.com, entrepreneur.com, ads2020.marketing, searchengineguide.com
Recommended Posts
February 20, 2017